Get your favorite comics delivered to you daily!
Learn More.
In Dubio Pro Rainbow's Profile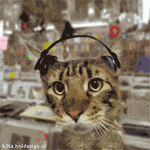 in-dubio-pro-rainbow Free
FURst of all: FUN is fun-damental even if the cat-aract scratches your eye and the cat-arrh bites your bowels or whatever cat-astrophies make life compliCATed till you're down in the cat-acombs... I FELINE love with comics at the very FURst sight (sighs!) - this and my music (like CAT Stevens or George HAIR-Reason) is it what really turns meeow! Absolutely no barking here!