Get your favorite comics delivered to you daily!
Learn More.
Meme Dee Dee (King Of The Comic Reviewers)'s Profile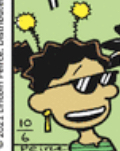 Meme Dee Dee (king of the comic reviewers) Free
Bow down to me, I'm the almighty Meme Dee Dee, master comic reviewer! OK, I'm not really, it's just for fun. Oh, and I'm in CRC.